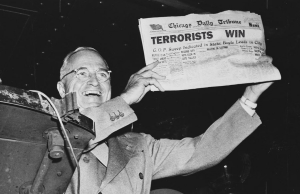 Can't say we didn't see this coming.  We're living in an age of paranoia, with Active Shooter Preparedness programs and the See Something Say Something mantra driven into our brains at every bus and train station, and at every airport checkpoint.  We tell our children 'you're not safe, ever' – there's bad people out to get them in our neighborhoods, shoot them in their schools, and steal their scooters from the bike rack in front of the five and dime.  Nevermind the chances of anything bad actually happening to any one of us – at least the dramatic terrorism style bad stuff – is next to nill.
And so today, the Transportation Security Administration caved into fear mongering politicians who stay in office by convincing us we are helpless without them taking our freedoms to keep us safe.  The proposed rule change to allow passengers to keep small, harmless pocket knives in carry on baggage on airplanes has been axed.  Read more here: https://www.foxnews.com/politics/2013/06/05/agency-drops-plan-to-allow-small-knives-on-planes/.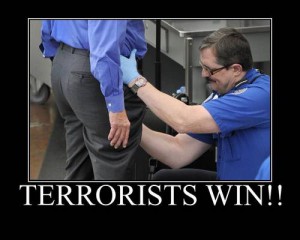 Rep. Ed Markey, D-Mass, calls this backtracking 'a victory for every single person who sets foot on a plane, and a reaffirmation that the government listens to the people.'  Rep. Markey is wrong – as a frequent flier, this is a loss of common sense and simple freedoms for Americans, putting us behind most other countries when it comes to what we can carry on airplanes.  So it's back to the crotch grabbing TSA, looking for the little things that will most likely never hurt us instead of focusing on the important things that could.
Congratulations, terrorists.  You win.  We're afraid of our own damn shadow.